Custom Crating and Packaging
FULLY TAILORED SOLUTIONS
Fully Customized Crating and Packaging Solutions in Phoenix
We specialize in custom crating and custom packaging, solving all aspects of your shipping needs. From designing and building a tailored wood crate to determining the best cushioning material to best protect your items, our in-house engineers and packaging experts take the time to do things right.
Our Phoenix custom shipping company has the comprehensive solutions to keep your assets in our grasp throughout your project. We pull from our large array of services to customize your shipping experience, knowing the risk that comes with taking a one-size-fits-all approach. You can expect quality, detailed, personalized attention when you work with our teams.
Have an item you consider too oversized, sensitive, or valuable to pack and ship successfully? Contact us; we're known worldwide for our solutions to the most challenging shipments.
We Never Take the Easy Way
You won't find your item in an oversized crate with an excessive amount of padding struggling to keep it secured. It would be easy to pack that way, but that's not how we do things. Our meticulous packaging team takes time to fully assess each item we work with. We look at the size, weight, mode of transport, destination, and more to ensure we design the perfect packaging methods for you.
Our first-time clients become repeat clients because they recognize that we never settle for good enough. Our goal is to provide the best crating and packaging solutions, and that's what we deliver.
Using spec-driven technology, optimized services, and a healthy amount of knowledge, we crate and package your valuables the way we'd crate and package our own. You can trust us to ensure your assets stay safe throughout the shipping process.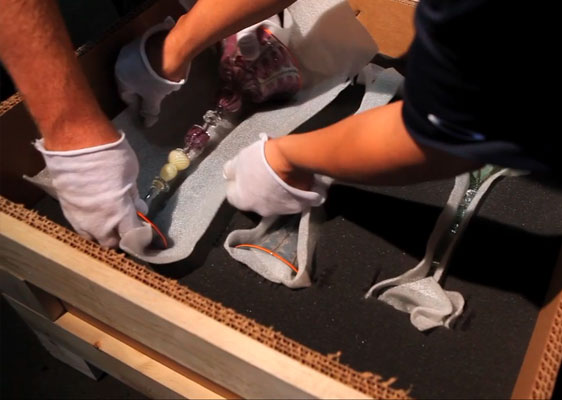 Custom Services
Craters & Freighters in Phoenix offers a wide range of custom packaging and custom crating services. Our teams never underestimate the importance of your shipment. We take a proactive approach to security because we understand the rigors of the unpredictable shipping stream.
Whether your assets are traveling by air, land, or sea, we're confident we can tailor every aspect of your shipment to meet your goals and requirements.
Contact us at 480-966-9929 877-966-9916 to learn more about these services, including:
On-Site Crating
We know that getting your oversized, fragile, or hazardous assets and materials to our facility can prove demanding. Don't jeopardize their safety by moving them without the needed equipment and experience. We'll come to you and custom design and build your crate on-site.
Our Phoenix on-site crating team uses the same level of quality no matter where your crate and its tailored packaging are engineered.
Contact us today to learn more about our services and how we can tailor them for your project.
Domestic and International Crating & Shipping
Both our 65+ nationwide locations and our global network give us an advantage over other shipping companies. We've garnered partnerships with numerous agencies that support our projects. Getting your items where they need to go safely, quickly, and within budget is your goal, making it ours too.
Our domestic shipping team is well-versed in providing the optimal solutions for your local or national shipping needs, no matter how big or small.
Headed overseas? We know what it takes to secure efficient deliveries of goods into foreign countries, your international shipment will not only have the correct documentation and ISPM-15 certification, but it will have the logistical support you're looking for in a shipping company.
Ask about our pickup and delivery option and white-glove services. Our solutions are made for you.
Get a no-obligation cost estimate.
Tell us about your custom packaging, crating or shipping requirements and we'll reply promptly with a figure you can use in your planning.
Arizona's businesses can count on us for their crating & shipping needs, no matter where they are located. From Phoenix to Chandler, Scottsdale, Peoria, Tempe, Mesa, Tucson, Casa Grande, Prescott, Sedona, and Flagstaff, we are here for you!