Server Rack & Electronics Crating
THE FULL SPECTRUM OF CRATING SOLUTIONS
Protecting Sensitive Electronics on Their Journey
Craters & Freighters Phoenix has solutions for all your electronics shipping needs. This includes hi-tech equipment, sensitive electronics, lab testing, and IT assets. Whatever you have to ship, we can handle it. Items that are too big, too heavy, or too valuable for other providers are easy for us.
We assess each item's characteristics to choose the optimal packing approach. Then we use advanced packaging technologies including anti-static wraps, cushioning, and foams to prevent electrostatic discharge from harming the item's components.
These sensitive assets require a specific level of protection, and our high-quality materials combined with our extensive knowledge of electronic packaging support a safe environment throughout your project.
Some of the items we've safely crated and shipped include:
Server racks
Computers
Monitors
IT components
Telecommunication equipment
You can trust our Phoenix office to manage and maintain your assets from start to finish.
Tech Equipment Handling Expertise
Items such as server racks, LCD and plasma monitors, and laboratory devices have to be packaged very carefully. Because of their breakable components, they are highly susceptible to damage. Some of the biggest names in technology trust us to pick up, pack, crate, ship, and deliver their heaviest, largest, most fragile, and highest-value assets.
Managing IT items has offered our electronics crating team invaluable insight into advancing our protection protocols. Our meticulous designs are generated by our in-house professionals, who provide the most deliberate, knowledgeable safety measures in the industry.
Server Rack Crating & Shipping
Server racks necessitate a particular technique for responsible transport, and our experts will uniquely engineer the precise protection plan to ensure a damage-free delivery. We specialize in these challenging projects and understand the demands of completing a successful server rack shipment.
Utilizing extensive solutions and materials, we'll ensure your server rack is packaged to prevent corrosion from seawater, moisture, humidity, and other damaging contaminants. You can rely on our team to develop packaging that protects throughout the rigorous shipping process.
Custom Crating & Packaging for Your Electronics
We know fragile components are at risk during shipping. That's why we start by assessing each item you need to ship. We assess everything from the kind of padding that will be required to dampen vibration to what specs the crate we build has to meet to properly protect the item.
A safe electronic shipment depends on rigid crating and packaging design. We will design and execute a custom crate for your asset using advanced software to find the exact size for the perfect fit. We only use the highest quality wood and materials to engineer our tailored crates.
Just as important as the crate is the custom packaging design that fits inside the container. Preventing the asset from moving while in transit is vital, as movement can cause significant damage to your sensitive electronic device.
Across the country or around the world, you can be confident we use the best packaging technologies to prepare your items for safe shipment.
On-Site Crating
Crating on location is often necessary for oversized, sensitive, and valuable pieces of equipment. Our crating team is prepared to come to your location to develop the optimal crating plan for your asset. Your item's safety is our number one priority, and our comprehensive services cater to a streamlined, effective process from the moment we start on your project.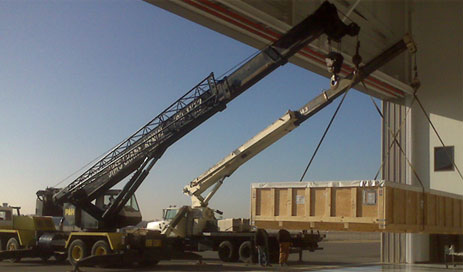 Electronic Packaging Solutions & Options
The professionals at Craters & Freighters are respected worldwide as industry leaders. Our experience and firsthand knowledge of procedures, techniques, and methods mean your assets get the best protection in an array of packaging options.
Some of our electronics solutions and options include:
Anti-static (ESD) packaging
ISPM-15 certified wood crates
Cushioning
Heat shrink wrapping
Vapor barrier wrapping
Our teams are dedicated and detail-oriented, garnering trust in the IT world. If you want confidence in your electronics packaging and crating project, look no further than Craters & Freighters.
Get a fast, free, no-obligation cost estimate from Craters & Freighters Phoenix.
Provide some information on your crating, packaging or shipping needs and we'll get back to you with a figure you can use in the planning of your project. Ask us about our cargo insurance for even more confidence throughout your shipping project.
Proudly serving all of Phoenix, AZ, and the surrounding areas.