EXPERT CRATING SOLUTIONS
Experienced Crating Services in Phoenix, AZ
Whether your items are heavy, high-value, unique, or fragile, Craters & Freighters Phoenix offers crating and packaging solutions customized to meet your needs. Most packing and shipping companies have size and weight restrictions. Not us.
Our crating professionals have the experience and skillset to generate wood crates that precisely match its item. We work with a variety of industries, organizations, and individuals, supporting an array of crating and shipping needs. We're relied upon for our excellent comprehensive services, superior logistics and customer care teams, high-quality materials, and extensive global network.
If you think your item is too challenging to expertly crate and package, our team is ready to help. We provide thoughtful crating and packaging designs for items that other shipping companies turn away.
We'll crate and ship virtually anything virtually anywhere. Let's talk about your crating needs today and how our crating solutions can help. We even offer site visits to assist with creating estimates.
Crating with Care
At Craters & Freighters, we do not believe in one-size-fits-all crating solutions. The more closely a crate matches the size and shape of an item, the more secure that item will be. When you choose our Phoenix crating company, you get a team that puts the safety of your asset above all else. Corners are never cut and integrity is never spared.
We design and build the perfect crate for every item in-house ourselves. We also tailor our blocking, bracing, and padding designs to ensure maximum protection.
Our customers will tell you that our attention to detail is what enables their items to get to their destination safely and free of damage, no matter where they're headed or how they're getting there.
Custom Packaging
It's crucial that your crate is outfitted with the proper inner supports for safe transport and secure arrival. The shipping stream offers many hazards and our proactive approach to custom packaging means your asset stays protected through turbulent conditions.We provide various packaging solutions, including:
Anti-static (ESD) packaging
Protective cushioning
Heat shrink wrapping
Vapor barrier wrapping
These efforts, combined with blocking, bracing, and other supports create the ultimate in safety for your valuable items.
Custom Crating
Our custom crating teams offer a level of knowledge and insight that goes unrivaled. We know how to determine the perfectly engineered crate for your unique item. Whether you're crating priceless art, sophisticated medical equipment, sensitive IT devices, or expensive industrial machinery, we assure you, we can get the job done.
Using spec-driven software, decades of experience, and a remarkable level of knowledge, our crate builders will get your assets to their final destination unharmed and in working order.
If your item doesn't need the extensive protection of a crate, ask us about our custom pallets and skids.
On-Site Crating
We offer on-site crating services so you can rest easy knowing your item is in our professional hands at all times during the crating process. We have everything we need to come to your location and design and engineer a tailored wooden crate on-site. We use the same level of quality, no matter where our crates are built.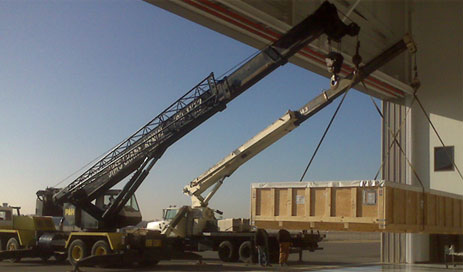 Protection Where It Matters Most
The shipping stream is no place for poorly packaged items. The conditions are challenging, and the handling of crates can be rough. If you want your valuables to arrive undamaged, it takes the kind of tailored expertise that we offer. Call us at 480-966-9929 to learn more about our services, including:
We know you have various crating companies in Phoenix to choose from, our crate builders and designers go above and beyond for every item we work with. You can trust us with your most fragile, valuable, and oversized items.
Get a fast, free, no-obligation cost estimate from Craters & Freighters in Phoenix.
Provide some information on your crating, packaging or shipping needs and we'll get back to you with a figure you can use in the planning of your project. Ask us about our cargo insurance for even more confidence throughout your shipping project.
Arizona can count on us for their crating & shipping needs, no matter where they are located. From Phoenix to Chandler, Scottsdale, Peoria, Tempe, Mesa, Tucson, Casa Grande, Prescott, Sedona, and Flagstaff, we are here for you!