PURPOSE-BUILT CRATES
Custom Crating Services in Phoenix, AZ
The engineers at Craters & Freighters in Phoenix create custom crating solutions for almost any item. Our designs ensure your assets arrive safe and undamaged. We draw from many resources, including an extensive MIL-Spec library, AutoCAD, and crating and cushioning software. We also leverage our decades of experience in crating everything from priceless antiques to sensitive medical devices to massive aerospace parts.
Because we work with a considerable variety of industries, we know a one-size-fits-all approach to your crating needs won't cut it. Our teams are skilled at determining flawless crating solutions to keep even the most fragile or valuable item protected throughout transit.
Whether your item needs domestic shipping or international shipping, our crating company in Phoenix will engineer the best packaging and crating design with thorough knowledge and thoughtful care.
Craters & Freighters also offers comprehensive AOG crating, shipping, and logistics solutions. By combining efficient and effective delivery of aircraft components with a commitment to sustainability, the company addresses immediate logistical challenges while recognizing the importance of reducing the industry's environmental impact.
We never underestimate the importance of your project, and our tailored crating solutions will surpass your expectations. We even offer site visits to assist with creating estimates. Just give us a call.
Specializing in Optimal Customized Cushioning & Protection Systems
Determining the best container to match your item is critical. However, for many items, dampening shock and vibration can be just as important. That's why we are specialists in developing and using the proper cushioning materials based on item weight, fragility, and vibration sensitivity.
Other packaging measures and techniques taken to maintain the integrity of your items including:
Blocking and bracing
Rigging for safe relocation prior to crating
With years of experience comes the understanding that the protective materials inside your custom wooden crate are vital to a safe shipment, especially when traveling by sea. With our vapor barrier packaging, your sensitive items will stay protected from corrosion due to saltwater.
Properly securing your contents inside the box or crate is the final step to ensuring your shipment will be protected from the challenges of the shipping environment.
On-Site Custom Crating
Large, oversized, fragile, and valuable assets are often challenging to get to our facility by their owners. We never want you to jeopardize the safety of your item, so we'll come to your location and design and build a custom crate and its packaging on-site at your location.
We work with various industries in this capacity and have everything necessary to create the exact crating designs on-site as we do in-house.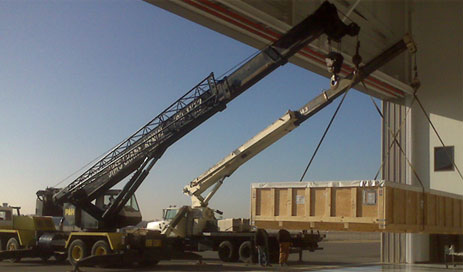 International Crating Needs
Our international crating and shipping team knows what it takes to get your shipment wherever it needs to go, even if that's overseas and into a foreign country. We use the highest quality materials and ISPM-15 certified wood. These crates have the bug stamp, meaning they have passed inspection and meet country requirements for entry.
Whether your asset is traveling for professional or personal reasons, we know that getting it delivered to its final destination effectively and efficiently is important. Let us take the guesswork out of your shipment and provide the materials and logistics to ensure a streamlined, safe process.
High-Quality Crating Options
No two shipments are the same. We provide many crating options to ensure your specific items can withstand the rigors of the shipping environment. This includes:
Custom-engineered crates based on product requirements
AutoCAD-designed crates
Mass-produced crates
Your assets deserve the best when it comes to their protection, and Craters & Freighters provides it. From start to finish, we can manage every aspect of your unique crating and shipping needs.
We are also HAZMAT certified and can pack and ship virtually any type of hazardous materials according to 49 CFR, IMDG, and ICAO regulations
Whether your item is traveling by air, land, or sea, our tailored wooden crates will get it to its destination free from harm and in working order.
Get a fast, free, no-obligation cost estimate from Craters & Freighters in Phoenix.
Provide some information on your crating, packaging or shipping needs and we'll get back to you with a figure you can use in the planning of your project. Ask us about our cargo insurance for even more confidence throughout your shipping project.
Proudly serving all of Phoenix, AZ, and the surrounding areas.